It is important to me that scientific knowledge be disseminated to the public in an accessible way. Along with the links to download a selection of my professional scientific publications I've provided a brief summary of the work and why it is important. My complete publication history is available on Google Scholar.
---
| | |
| --- | --- |
| | My doctoral dissertation involved a weapon system of interest to the US Army. When igniting a conventional gun propellant with a plasma there one can achieve enhanced performance from the propellant. My doctoral thesis attempts to explain why utilizing computer models to probe the fundamental physics involved. This document was (and maybe still is) the largest comprehensive single work on electrothermal chemical guns. |
| | |
| --- | --- |
| | This application of theory and computer modeling to the interaction between plasma and propellants is currently my most heavily cited research paper. The results of this study indicate that radiation from the plasma plays a major role in the plasma-propellant interaction. |
| | |
| --- | --- |
| | As a plasma interacts with a propellant the propellant ablates, fundamentally changing the dynamics of how the two interact. It was necessary to develop a model which could adapt to this change. I'm very proud of this work because of the beautiful way the model transitions from a collisionless plasma sheath to a collisional one (see figure 6). |
| | |
| --- | --- |
| | Ultra-fast laser pulses (femtosecond lasers) can undergo a process called filamentation, in which the laser self focuses in air. When this happens the way the laser filament interacts with solid materials appears to change. My colleagues and I were interested in studying this phenomenon, and I provided a bit of theory for their experimental efforts. This study demonstrated interesting surface shapes created by filament-target interactions, and the theoretical work indicates that the shapes are not caused by traditional laser or plasma effects, thus are somehow unique to filamentation. |
Powered by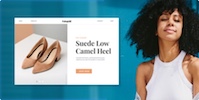 Create your own unique website with customizable templates.